Shea Butter Moisturizer with Kigelia - All Natural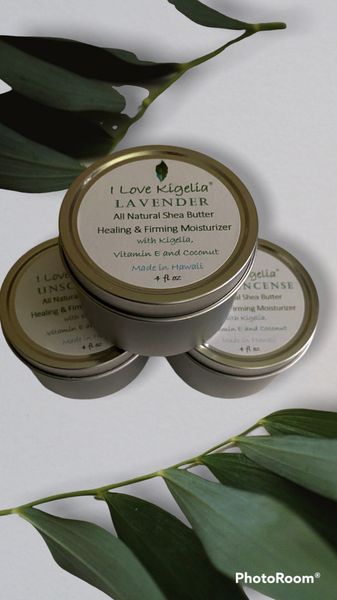 Shea Butter Moisturizer with Kigelia - All Natural
All Natural Kigelia Shea Butter - Healing & Firming Moisturizer - All Natural Product for Face, Skin and Hair
Ingredients: Refined African Shea Butter, Kigelia Fruit, Vitamin E, Leuconostoc/Radish Root Ferment Filtrate, Lactobacillus & Cocos Nucifera ( Coconut) Fruit Extract.  

Available in Unscented or Scented (using only pure essential oils)
Scent Options: 
Unscented

Frankincense (Relieve Stress & Anxiety)
Lavender (Relaxing)


Size: 4 ounce tin
About Refined Shea Butter: Can improve skin elasticity and reduce stretch marks.  It also can be used as an after-shave.  Shea Butter can block the sun's ultraviolet rays, used as an anti-inflammatory and moisturizer. Shea butter is extracted from Shea nuts. The natural butter is filtered to remove any impurities, resulting in a creamy off white color and an ultra high quality pure product. The refined Shea butter also has less odor. This product comes from Burkina Faso, Africa.

About Kigelia Extract: http://www.livestrong.com/article/550323-what-does-kigelia-fruit-extract-do-for-skin/

DISCLAIMER: All products are for external use only, do NOT ingest. Make sure you do NOT have any allergies to the product by testing a small area on your skin first. Pregnant women or people being treated for skin or hair problems should consult with a physician before using. This product is not intended to diagnose, treat, cure or prevent any disease. Results may vary.  
Reviews